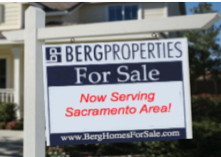 Welcome to BergHomesForSale.com the site for Berg Properties in the Northern California Area.
We supply full-service agent support for the Sacramento area and Listing Agent support for the Northern CA region. We specialize in providing consumers MLS listing information so they can make informed decisions on what to buy or sell their home for.
Mathew Berg is a Northern CA Broker that leverages the support of Berg Properties and the expertise of Scott and Mike Berg who have sold thousands of properties in the area of Chicago. As agents in Chicago they are ranked among the top 1% in sales volume.
If you are a home seller or buyer then look no further. I can help you list your home and get it sold, or find the home that fits your wants and needs! Give us a call today at 530-558-5460.
Also, if you are a Seller looking to save money without paying a seller commission we supply a flat fee listing service. If interested check out MLS Town for Northern CA.